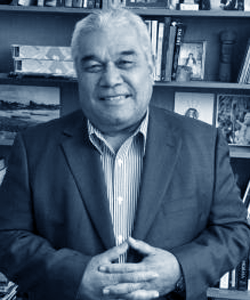 Galumalemana Alfred Hunkin is a prominent New Zealand Pacific leader of Samoan ancestry.  He is a published writer, broadcaster, researcher, cross-cultural advisor / consultant and academic. Galumalemana has been a strong advocate for Pacific peoples in New Zealand, both academically and in relation to public policy.
He established Samoan Studies at Victoria University in the 1980s and was also the inaugural director of the Wellington Multicultural Educational Resource Centre from 1980 -1989. Galumalemana was awarded The New Zealand 1990 Commemoration Medal for services to education in New Zealand.
He was also awarded the MNZM (Member of the New Zealand Order of Merit) award in 2001 for services to the Pacific Islands community and the Samoan community in its language maintenance efforts in particular. He retired in 2013 from Victoria University Wellington after nearly 30 years of service at the university.
You can contact Galumalemana here at galuhunkin@gmail.com