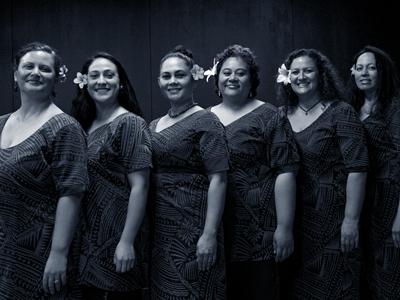 A small, dedicated group of mothers of current and former Mua i Malae students came together to volunteer their time and skills to make the magic happen under the leadership of former Richmond Road School student Olivia Taouma-Levy.
Olivia Taouma-Levy is Sāmoan European (Faleasi`u, Poutasi and Cockburn) has three children with her husband Nicholas Levy (Malifa, Sinamoga and European) – Niko, Jada and Anna, all of whom went through the Sāmoan language early childhood centre A`oga Fa`a Sāmoa and Mua i Malae.
Sina Creevey is Sāmoan European (Satupa`itea, Sasina, Fasito`o-tai) and is married to Kahungunu Barron-Afeaki of Tongan/Ngāti Kahungunu descent. They have two children – Olevia and Atelea Barron-Afeaki.
Gina Williams has three children, Gianni, Leon and Aulola Williams-Fotu of Sāmoan, European and Tongan descent (Leauva`a in Sāmoa and Sopu and Folaha in Tonga).
Leulua`iali`i Lila Vagana (née Ale) is married to Vagana Ne`emia Vagana. They have four children; Fa`asoa, Siana, Matagialofi and Zephaniah (Salelavalu, Sasina, Salelologa, Toamua and Afega).
Sandra Kailahi is mother to Kingston Kailahi-Aso of Tongan, European and Sāmoan descent (Faleula in Sāmoa and Kolonga and Neiafu in Tonga).
Feeonaa Wall and Neville Clifton are partners and together they have three children, Tuva`a, Samalulu and Aotea Clifton of Sāmoan, German, Swedish and Falkland Island descent (Malie, Fasito`o-uta, Safune).
As parents, they all have the same aim: To invest in their children so that they will become confident in their Sāmoan culture and identity. Being bilingual will enable them to get the best of both the Sāmoan and the Western world, ultimately enhancing their wellbeing and ability to achieve academically. They would like to thank you for sharing your memories, your pictures and your sentiments with them and all of the readers of this book.
Komiti o Tinā (Matua Atina`e)