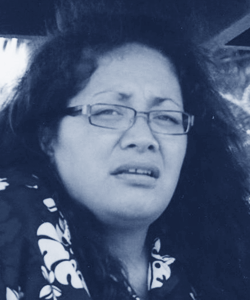 Zora Feilo is a NZ born Niuean whose parents and grandparents were part of the first wave of Pacific migrants, who landed in Auckland City in the early '60s. Her father Leotau Vitamini Osikai Feilo is from the village of Alofi and her mother Elsa Manatagaloa Tukuniu Feilo is from Avatele and Tamakautonga.
Zora is the mother of three young adults; Kirsten, Zethan and Allexander and a new mother to Candice and grandmother to baby Eva. She likes to spend time with family, taking photos, travelling and writing. She is a founding member of the Tupumaiaga A Niue Trust who provide heritage and contemporary arts programmes for Niuean Youth in Auckland during the school holidays.
In 2006 Zora was named one of five winners in the Spasifik Magazine writing competition with her short story 'Fisi & Pua and Katuali the Seasnake'. She has published in Spasifik Magazine and Niu Voices Contemporary Pacific Fiction 1. Her first and forthcoming book The Tales of Niue Nukututaha is a Niuean bi-lingual book of 12 fictional tales and is an extension of her original winning short story.
Zora graduated from Unitec with a double major in International and Media Communications and currently works at Auckland City Council. She hopes to continue writing and looks forward to making a second edition of her book.
Fakaaue lahi mahaki ! :-)