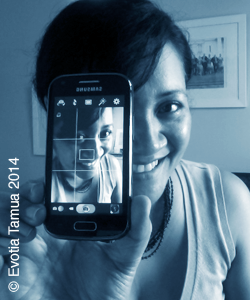 Auckland-based Samoan photographer Evotia Tamua specializes in documenting the Pacific way of life and people in Auckland, the world's largest Pacific Islands community, and in the Islands – her two worlds. She has exhibited work in New Zealand, Samoa, Australia and in the UK at Oxford University's famous Pitt Rivers Museum. Evotia also works as a successful commercial photographer. Evotia's work documents and reflects the contrasts between the Western and the new traditions of the Pacific, the inherited and the new, the young and the old.
Since her first photograph of Mt Albert Grammar boys at the 1989 Polynesian Festival, Evotia has been documenting the annual Auckland Polyfest and Pasifika Festivals. Evotia's photography was also the primary content for the books Pacific New Zealand and Samoa: Pacific Pride, which was co-authored by Tony Murrow and has become a Lonely Planet featured work. She has been named one of New Zealand's top 100 Pacific Island achievers – at number 59, just one place below Jonah Lomu.
She has been official photographer for the Auckland City Council, Pasifika Festival, Pasifika Fashion Show, Government of Samoa, Best Pacific Institute of Education and recently Rugby League Samoa.
Evotia is from the village of Salelesi in Samoa. You can see more of her work at www.evotia.co.nz