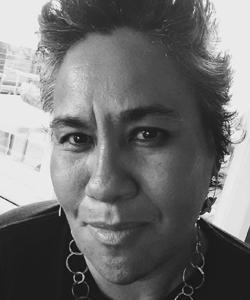 Sia Figiel, born in 1967 is a Samoan novelist and poet whose work is published in New Zealand. She is often described as Samoa's first woman novelist. Her first book, where we once belonged (1996), won the Best First Book award in the South East Asia/South Pacific region of the Commonwealth Writers Prize in 1997. Her second novel is They who do not grieve (1999). While both are novel-length narratives, neither conforms to a 'traditional' narrative structure. One account from publisher Pasifika Press suggests that where we once belonged 'attempts to structurally represent one of its central themes: the dominance of the community identity and continuity over the identity and growth of the individual.'
Figiel has also published two volumes of prose poetry, Girl in the Moon Circle (1996), and To a Young Artist in Contemplation (1998). Her poetry won the 1994 Polynesian Literary Competition.
Well known as a performance poet, she is a frequent guest at literary festivals. Figiel has held residencies at the Institucio de les Lletres Catalanes, Spain; the Pacific Writing Forum at the University of the South Pacific; the University of Technology, Sydney; and the East West Center – Center for Pacific Islands Studies, University of Hawaii.