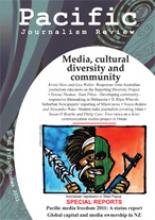 Pacific Journalism Review: Media, Cultural Diversity and Community 17/2 (October 2011)
Media, cultural diversity and community
The killing and abduction of journalists in West Papua has been highlighted in a special new report on Pacific media freedom over the past year by Pacific Journalism Review. 
"By far the most serious case of media freedom violations in the Pacific is in Indonesian-ruled West Papua—far from public scrutiny," says the journal in an editorial. 
The 39-page report on the state of media freedom in the Pacific in 2011 notes that in August, in particular, "sustained repression has also hit the news media and journalists". 
At least two journalists have been killed in West Papua, five abducted and 18 assaulted in the past year. 
West Papua has replaced Fiji as the most urgent media freedom issue in the region, says the journal. The report has been published just as regional protests have been voiced over the brutal suppression of a strike at the giant Freeport copper mine in the past week in which at least one person was reported shot dead. 
This free media report, compiled by Pacific Media Watch contributing editor Alex Perrottet and Pacific Media Centre director Dr David Robie with a team of contributors, including West Papua Media editor Nick Chesterfield, is the most comprehensive and robust media freedom dossier published in recent years. 
This edition of PJR is themed on "Media, cultural diversity and community", and includes articles on Australia's Reporting Diversity Project, the Yumi Piksa community television project in Papua New Guinea, a study of the use of te reo Māori by Fairfax-owned Suburban Newspapers in New Zealand by the Te Rōpu Whariki research team, reporting of Islam in Australia, the Australian country press, and the development of a cross-cultural communications degree in Oman by a New Zealand university.