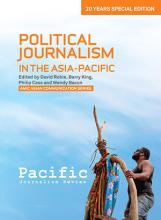 Pacific Journalism Review: Political Journalism in the Asia-Pacific 21/1 May 2015
20 Years Special Edition in association with the Asia Media Information and Communication Centre (Singapore)
Edited By David Robie, Barry King, Philip Cass and Wendy Bacon.
A special book edition of Pacific Journalism Review marking 20 years of publishing. This new publication features the Pacific asylum seekers issue and human rights, the Fiji post-coup general election and free speech, resource development in the Solomon Islands, Australia's emerging "secret state" and shield laws, human rights in West Papua, martial law and e-martial law in the Philippines and New Zealand political and climate change reportage of the Pacific.
The book includes chapters by Del Abcede, Pat Craddock, Wendy Bacon, Kayt Davies, Eliki Drugunavalu, Lee Duffield, Amy Forbes, Walter Fraser, Maire Leadbeater, Irene Manarae, Ricardo Morris, Chris Nash, Mark Pearson,
David Robie, Shailendra Singh and others.