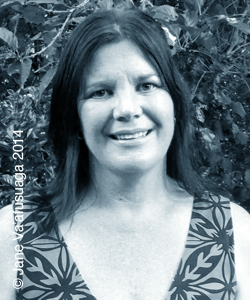 Jane Va'afusuaga was born and raised in Eastbourne, Wellington and is of Scottish heritage. Having trained as a teacher, Jane taught for 10 years in Auckland and four years in Apia, Samoa. Jane lives in Samoa in the village of Falease'ela, with her husband, Olsen and daughter, Coco.
Their house sits beside the Liua le Vai o Sina River, where they host visitors from around the world through their ecocultural adventure tourism business. Life in the village means Jane has been immersed in the culture, language, natural environment, church and customs of the Samoan people. She works in the family business, writes when she can and volunteers at the local primary school where she has set up a library.
Jane is a 2017 New Zealand Society of Authors mentorship recipient.
"My passion is to write stories and articles that children, especially Pacific Island children can respond to. To give them characters and situations they can relate to and stories they can see themselves in, ultimately to inspire children to read".