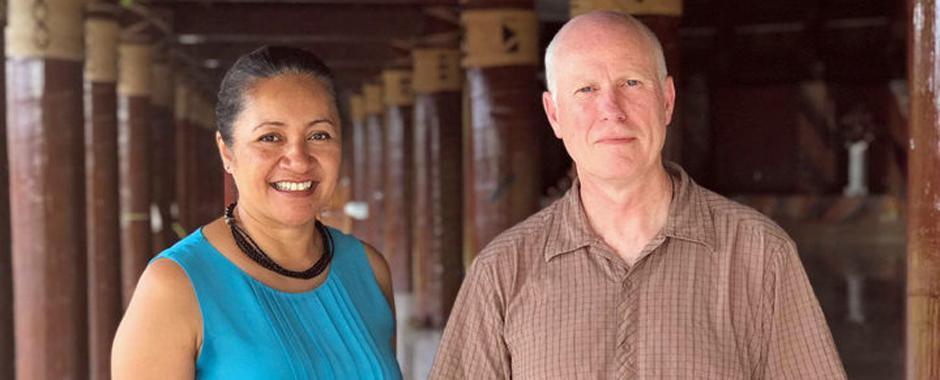 1 December 2017
Source: Radio NZ / Pacific
Photo: Dionne Fonoti
An Auckland based Pacific publishing house celebrates a decade of its business operation this month and is already looking towards the future. Its business model takes profits from commercial and public vendor work which is then used to produce Pacific books and other content such as videos. Little Island Press is holding its 10 year celebration to coincide with a commonwealth book launch organised by Tony Murrow and Evotia Tamua who co-own and run the business.
Tony Murrow has had 30 years of publishing experience and said there have been some challenging but rewarding times . "Most businesses don't last very long so it is almost surprising that we've got this far," he said. "I suppose that I am thinking now about preserving what we have got and growing on it. "We have lots of plans to develop and to increase the number of books we produce every year and getting this particular distribution and availability of those books sorted out," Mr Murrow said. "Because it is a difficult marketplace the Pacific, and difficult getting books into the islands, and even harder getting the money back, but we have to use what we have got and do better."
Evotia Tamua said time had flown by. "It feels really quick. I mean I still remember thinking sitting in that cafe in Titirangi saying like why don't we just do it? What is the worst that could happen? We could fail?" said Ms Tamua. Evotia Tamua said they opened up a bank account, got an IRD number and decided to start the business together.
Little Island Press has been publishing since, from children's books to more challenging publications like Semisi Ma'ia'i's Samoan dictionary. "I still like how we published Semisi Ma'ia'i's Samoan dictionary because that was so difficult and there were so many publishers who had turned that book down and we just did it, and we didn't get any grant or funding for it and we just decided we would do it in a particular way and we'd do it ourselves," Mr Murrow said "Dictionaries, particularly of that size, are incredibly difficult to produce and there were production issues with it and we did that and I am really proud of that," he said.
Their latest publication is a book titled "So Many Islands: Stories from the Caribbean, Mediterranean, Indian and Pacific Oceans." The project has involved several publishers around the world and brought together by the London based Commonwealth Foundation. "What we have here is a collection of new writing from island specific communities from the largest yet dispersed geographical areas in the world," said Mr Murrow. The publication is having simultaneous launches in different locations around the world and the book launch was held in Samoa for the Pacific region. Pacific contributors include the likes of Sia Figiel and Karlo Mila, but there are also new writers featured as well.
Murrow said a recurring theme through the writing is that much of it showcases people leaving their islands, returning and reconnecting again. "With more books, we should get more stability in terms of our business model and I suppose that is the basis with the publishing industry is having enough titles but then actually being able to sell to market and distribute those titles," said Mr Murrow. At the moment, Little Island Press publishes an average of one book a month, but they aim to increase production next year.